Posts Tagged 'battery problem'

A set of jumper cables walk into a bar.
Bartender says: "Hey pal, get out of here. We don't serve your kind!"
The jumper cables plead: "Look, I'm here and I'm thirsty. I've got money, and I want a drink. Please let me stay."
Bartender says: "Ok, you can stay, but don't try to start anything!"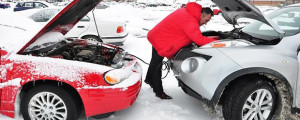 What you can't see
Automotive batteries come in many shapes and sizes, but their operating principles are remarkably similar. The modern automotive battery is a lead-acid storage design. In short, it's an electrochemical device that converts chemical energy into electrical energy. When the battery is placed under a load, such as when the ignition is switched on, the device converts stored chemicals into electricity, and the current flows through the wires to its destination. read more…
Have a charging or starting system issue?  Click here to view our savings through 2/20/14.